The covid-19 pandemic has affected all aspects of our lives and changed many of them. Some of the most significant shifts have taken place in the property market where new trends are emerging. These mean that US buy-to-let properties now stand as one of the best real estate investments available. In this article, we look at the four reasons why.
People rethinking where they want to live
As many city dwellers have discovered over the last few weeks, urban apartments are not necessarily the best place to spend a lockdown. Lack of space and no private outdoor area mean that many people have been rethinking where they live.
Families with spacious homes and especially those in gardens have a clear advantage during confinement. It's therefore unsurprisingly that demand for single-family homes with backyards has risen. Apartments with generous communal spaces are also highly sought-after as potential buyers and renters look for more spacious housing.
Investment in US buy-to-let properties taps into this trend, particularly for real estate located in areas with a good climate. Florida real estate agents are already reporting an uptick in searches for property in the Sunshine State, particularly from buyers in built-in urban areas.
More demand for US buy-to-let properties
The demand for rental properties tends to surge during times of economic difficulties. Would-be homeowners come against the challenges of stricter lending conditions and leaner cash flows making rentals a more favourable option.
There is every sign that this will be the situation post covid-19, adding to the benefits of investing in US buy-to-let properties. The dual drivers of the desire for more spacious homes and tighter economic conditions will push demand still further for rentals.
Interest rates low
Very low lending rates add to the favourable conditions for US buy-to-let properties. Mortgage interest currently stands at one of its lowest rates ever in the US – 3.88% for a 30-year fixed-rate loan. Analysts believe they are unlikely to rise over the next few months as the economy adjusts to the new reality, meaning buy-to-let investor can take advantage of cheap mortgages.
Property always a sound investment
The fourth and final reason why US buy-to-let properties are the best investment right now comes in the nature of the asset itself. Real estate has historically shown itself to be one of the most solid components of an investment portfolio in the medium to long term.
Historically, house values rise. Despite the cycles in any property market – bubbles, crashes, economic crises etc – the underlying tendency is always upward. The graph below clearly shows this trend – house prices in the US have gone up 69% since Q1 1975 (the earliest records). Those in the UK have soared by 227%.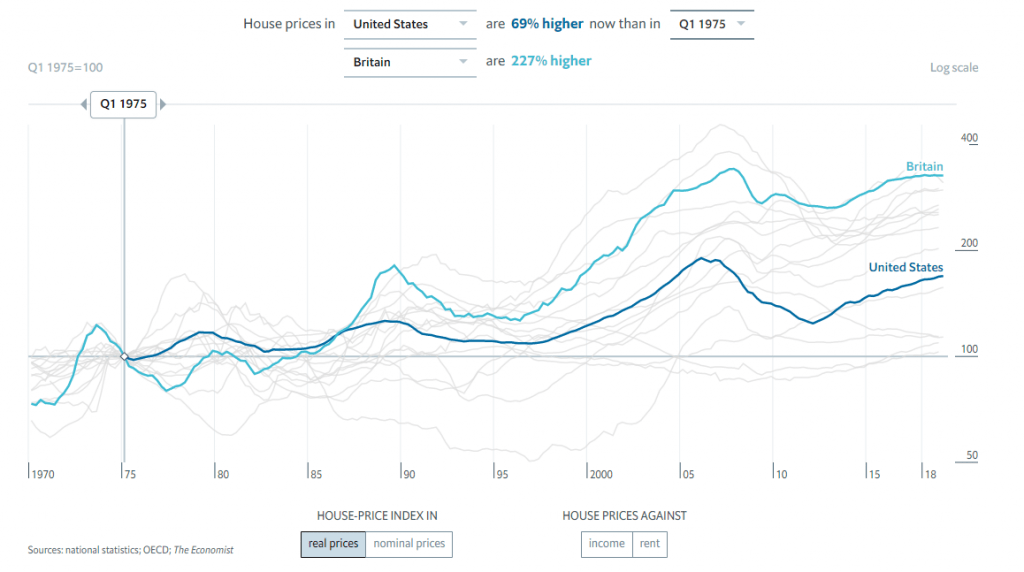 As Franklin D. Roosevelt said, "Real estate cannot be lost or stolen, nor can it be carried away. Purchased with common sense, paid for in full, and managed with reasonable care, it is about the safest investment in the world."
In the current climate of change, US buy-to-let looks like one of the most solid investments on the market. BRIC Group offers investors turnkey properties in the US, located in key areas of Florida and Houston. Investment starts at US$102,500. Many units have the additional advantage of two-year rental guarantees and tenants already in place.
(Source: The Economist, BRIC Group)
BACK TO ALL NEWS