More direct flights to Fortaleza from European capitals has been announced promising a busy season for Ceará tourism. The high season (December to February) looks set to break all records for both foreign and domestic tourists visiting Ceará.
High season is always busy in Ceará, one of the country's favourite holiday spots. But the forthcoming Christmas and New Year period is forecast to be even busier. Figures for visitors, particularly European tourists, are expected to reach their highest ever.
Good summer season
Ceará tourism is already enjoying a record year. According to figures published by the state Tourist Board, Fortaleza Airport received 30% more foreign tourists in August compared to a year earlier. The marked rise in tourism comes on the back of the big increase in direct flights to Ceará .
More international flights
The forthcoming high season in Ceará will see 47 direct flights a week to Fortaleza Airport from 13 European, South American and US destinations. During the same period last year, there were only 13 direct flights a week from 8 destinations.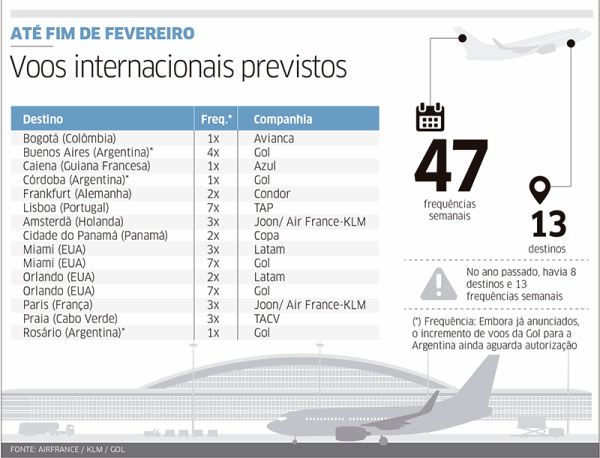 This massive uptick in the number of flights will naturally translate to thousands more visitors. The online travel portal Kayak recently announced that Fortaleza was the most sought-after destination in Brazil for the forthcoming New Year's Eve celebrations.
And Ceará tourism authorities have confirmed this popularity. According to their statistics, hotels in Ceará are already 90% booked for New Year's Eve. The state is more than confident that it will beat last year's record of 1.07 million visitors in high season.
New flights to Madrid
A further boost to Ceará tourism arrives May next year when Air Europe begins direct flights to Fortaleza Airport from Madrid. Air Europe signed an agreement with the Airport authorities in early October and will offer two flights a week between the Spanish capital and Ceará.
Air Europe forms part of the Skyteam alliance whose members include Air France and KLM. The French-Dutch partnership together with the Brazilian airline GOL are responsible for the new flight hub at Fortaleza Airport that started operations in May this year.
For their part, GOL Airlines have announced yet more domestic flights connecting Fortaleza Airport with other parts of Brazil. New destinations about to be added include Juazeiro do Norte and Foz do Iguaçu, one of Brazil's most famous beauty spots.
There are an increasing number of domestic flights operating out of Fortaleza Airport by GOL Arlines. The Ceará Tourist Board is already promoting the Ceará capital as an entry point for international tourists to BACK TO ALL NEWS